Ghetto Klown (Hardcover)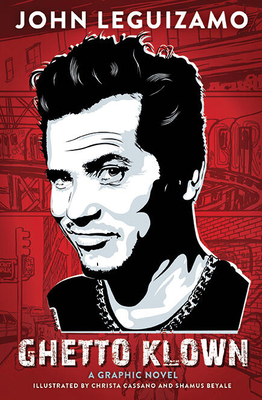 $24.95
Usually Ships in 1-5 Days
Staff Reviews
---
I am in love with Ghetto Klown, John Leguizamo's graphic (in both senses) memoir of growing up, acting, and, gradually, learning how to create his own kind of theater. His artistic collaborators for this Eisner-nominated work, Crista Cassano and Shamus Beyale, do an amazing job of getting Leguizamo's kinetic persona across, and contribute their own share of visual comedy. If you love New York City, the art of the one-person show, crazy personal stories—or just have a soft spot for Johnny Legs—this is the book for you.
— Ellen
Description
---
"Ghetto Klown is autobiographical dynamite—this is Leguizamo at his scathing, honest, moving, comedic best. Among the finest portraits of an artist as a young wounded talented man as I've read."
—Junot Díaz

"My main Johnny Legs has done it again. Ghetto Klown as a graphic novel? DOPENESS."
—Spike Lee
In Ghetto Klown, celebrated performer John Leguizamo lays bare his early years in blue-collar Queens, his salvation through acting and writing, and his colorful career trajectory. He brings us onto the sets of his films opposite stars such as Al Pacino and Patrick Swayze and with directors such as Baz Luhrmann and Brian De Palma, while also opening up about his offstage life in love and marriage. In this candid graphic novel memoir, Leguizamo offers a strong message of moving beyond self-doubt—and beyond the doubters—to claim some happiness.

Originally staged on Broadway in 2011, Ghetto Klown won Leguizamo Drama Desk and Outer Critics Circle Awards before being adapted into an HBO special. Now, teaming up with artists Christa Cassano and Shamus Beyale, Leguizamo shares his life story in this vibrant, funny, and moving adaptation.
About the Author
---
John Leguizamo's 30-year career in show business has included turns in movies such as Chef, Ride Along, Romeo + Juliet, Moulin Rouge!, and Carlito's Way and onstage in five award-winning one-man shows.
Christa Cassano is a Brooklyn-based artist and member of Hang Dai Studios in Gowanus.
Praise For…
---
"Ghetto Klown is autobiographical dynamite—this is Leguizamo at his scathing, honest, moving, comedic best. Among the finest portraits of an artist as a young wounded talented man as I've read."
— Junot Díaz
"My main Johnny Legs has done it again. Ghetto Klown as a graphic novel? DOPENESS."
— Spike Lee
"John's writing is a cross between hip-hop and Eugene O'Neill. His scathing and unforgiving look at his own life takes no prisoners and, best of all, sets himself—and us—free."
— Baz Luhrmann
"John's writing has always been cutting-edge. His relationships with women, father and son stories, autobiography . . . He is a pioneer in theater and comedy, not just for Latin people, but as much as any comic or playwright I've ever seen or read. No one makes me laugh louder than this man. We are better because of him."
— Sophia Vergara
"The graphic novel of Ghetto Klown captures the infectious spirit of John Leguizamo's live performances with the same surprising humor and cultural insight. These pages make John seem like the coolest super hero in New York."
— Jesse Eisenberg
"A touching and sometimes hilarious graphic novel."
— Parade online
"Though Leguizamo has matured, this insightful and engaging memoir still offers plenty of youthful edginess."
— Booklist