Something to Declare: Essays (Paperback)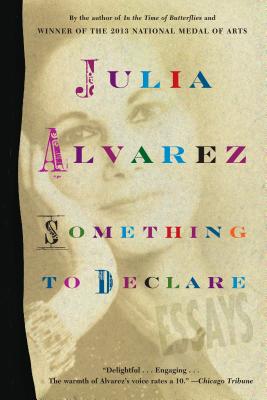 $15.95
Usually Ships in 1-5 Days
Staff Reviews
---
" Read the beautifully written coming of age essay of Julia's childhood. She was, is, and always be strong minded and she encourages you to be strong minded. It's a story of love, having wisdom and being a Latina in the United States."
Word Up Volunteer - Marisol
— From
Staff Picks
Description
---
"Julia Alvarez has suitcases full of history (public and private), trunks full of insights into what  it means to be a Latina in the United States,  bags full of literary wisdom." —Los Angeles Times

From the internationally acclaimed author of the bestselling novels In the Time of the Butterflies and How the García Girls Lost Their Accents comes a rich and revealing work of nonfiction capturing the life and mind of an artist as she knits together the dual themes of coming to America and becoming a writer.

The twenty-four confessional, evocative essays that make up Something to Declare are divided into two parts. "Customs" includes Alvarez's memories of her family's life in the Dominican Republic, fleeing from Trujillo's dictatorship, and arriving in America when she was ten years old. She examines the effects of exile--surviving the shock of New York City life; yearning to fit in; training her tongue (and her mind) to speak English; and watching the Miss America pageant for clues about American-style beauty. The second half, "Declarations," celebrates her passion for words and the writing life. She lets us watch as she struggles with her art--searching for a subject for her next novel, confronting her characters, facing her family's anger when she invades their privacy, reflecting on the writers who influenced her, and continually honing her craft.

The winner of the National Medal of Arts for her extraordinary storytelling, Julia Alvarez here offers essays that are an inspiring gift to readers and writers everywhere.

"This beautiful collection of essays . . . traces a process of personal  reconciliation with insight, humor, and quiet power."  —San Francisco Examiner and Chronicle

"Reading Julia Alvarez's new collection of essays is like curling up  with a glass of wine in one hand and the phone in the other,  listening to a bighearted, wisecracking friend share the hard-earned wisdom about family, identity, and the art of writing." —People
About the Author
---
Julia Alvarez left the Dominican Republic for the United States in 1960 at the age of ten. She is the author of six novels, three books of nonfiction, three collections of poetry, and eleven books for children and young adults. Alvarez has taught and mentored writers in schools and communities across America, most recently as a writer-in-residence at Middlebury College, until her retirement in 2016. She is a co-founder and convener of Border of Lights, a collective of activists committed to promoting peace and solidarity between the Dominican Republic and Haiti. In 2009, In the Time of the Butterflies was selected by the National Endowment for the Arts for its national Big Read program. Her website is juliaalvarez.com.